CHARGING SOLUTIONS
DC/DC Coverter Based Auxiliary Battery Charging Solutions 2015
Maxon's battery charging solutions ensure your liftgates are always ready to use, even in the most extreme heavy-duty applications or extreme weather.
DC/DC Converter Based Charging Solutions
A DC/DC converter eliminates the above problem by amplifying (boosting) any input voltage (9 to 14) to the correct voltage necessary to charge and maintain the liftgate batteries. Additionally the DC/DC converter mitigates the impact of cold temperatures by increasing the voltage even higher. The complete solution consists of a Direct (one power source) or Select (multiple power sources) module, hardware / connection harness, and the DC/DC converter (already pre-installed and complete with battery box).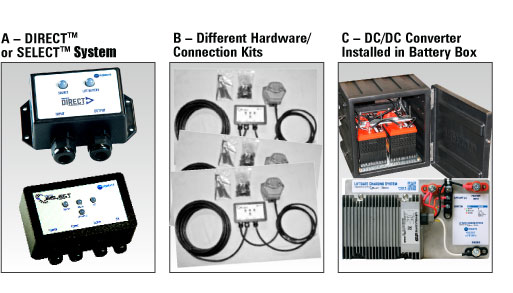 DC/DC Coverter Based Auxiliary Battery Charging Solutions 2015
Features
Optimizes liftgate battery charging
Ensures batteries stay in top condition and ready for use
Wide variety of kits fit virtually every need and application
Ideal for extreme duty cycles or extreme weather