Product Documentation (PDF)
Liftgate Charging System
Purkeys' DIRECT™ Nosebox liftgate charging systems fully and efficiently charge liftgate batteries. They boost voltage through a DC/DC converter to more quickly charge batteries and to overcome the voltage drop from the tractor to the liftgate batteries.
The smart control unit of the DIRECT has been integrated with a 7-way nosebox, which saves space on the front of the trailer and automatically regulates and maximizes liftgate battery charge time, thus increasing battery life and allowing the liftgate to work more efficiently.
An easy-to-read LED display identifies potential issues and reduces troubleshooting time by alerting drivers and technicians to the status of the liftgate batteries and the source.
The DIRECT Nosebox line also includes an interior light control (harness sold separately) that allows the driver to select whether the lights remain on for 30, 60, or 90 minutes. This lets the driver work as needed inside the trailer while ensuring that the batteries will not become depleted by the interior lights.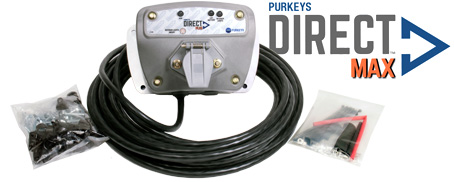 The DIRECT Nosebox Line is a Good Match for Fleets that:
• Want to save space on the trailer
• Want one centralized power location
• Use the same power connection for all tractor/trailers
• Need an extra boost to optimize charge time
• Make multiple stops during a route and want liftgate batteries to charge faster